Overview
The Essential Elements For Green Roofs & Roof Gardens
Drainage/Water Storage/Aeration
WINDIDRAIN® provides superior water drainage, water storage, and aeration to create a harmonious balance of air and water in the substrate soil.
The WINDIDRAIN® elements are specifically designed for extensive and intensive systems where substantial water retention is required for plant usage. They are light weight panels made of 100% recycled polypropylene, moulded specially and designed with retention cups and drainage. The unique design allows for the free drainage of excess water, achieving flow rates from 10 to 30 times higher than that of conventional drainage methods. At the same time, the system is engineered to promote irrigation through capillary action and evaporation into the soil/vegetation level. WINDIDRAIN® may easily be installed over waterproofing membranes or insulation. It is easily cut to fit around penetrations, perimeters, and drains. In applications where intensive systems are required, the retention cups may be filled with mineral substrates.
WINDIDRAIN® may also be installed to create green areas where it was not previously possible. Plants and flowers, now may easily be achieved on existing roofs, terraces and paved yards. The WINDIDRAIN® system, has a wide range of utilizations: To change the terrace floor into a garden plot with shrubs and trees, is easy as laying the WINDIDRAIN® elements on an existing terrace or balcony, applying the required filter fabric, laying the soil and planting.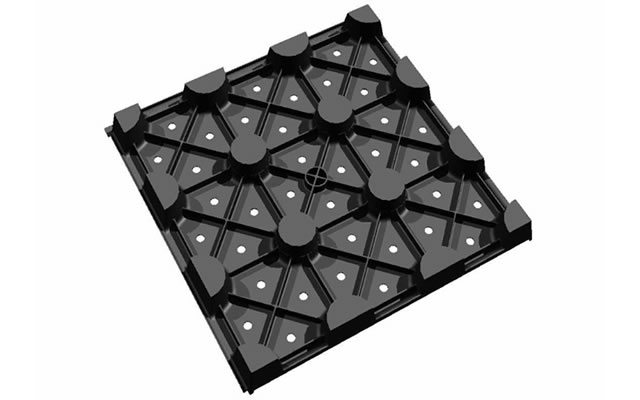 Advantages, Features And Benefits
Rounded feet allow elements to be applied directly on the waterproofing;
Unlike other systems, WINDIDRAIN® creates a consistent cavity underneath in all directions for passing of irrigation systems, pipes or other services;
Adaptable for both flat and sloped roofs thanks to its patented interlocking design; elements will not move once installed and loaded with substrates;
Excellent component for Extensive and Intensive roof assemblies;
High compressive strength of 6000 kg/m2 ( 9.0 Psi), allowing for a variety of landscape surfaces, pavers, concrete slabs, pedestrian and vehicular traffic;
Suitable for steep roofs, due to its patented interlocking system;
Superior drainage of excess water/flow rates;
Ideal for use with lightweight engineered soils;
Speed and simplicity of assembly are the primary benefits;
Ventilation and aeration in all directions;
Made of 100% recycled high density polyethylene plastic;
Endless adaptability. Quick cutting using circular saw in unique situations.
CUPOLEX WINDIDRAIN® is available in 50mm and 100mm heights and is a patented product.
Watch Video to See How Windi is Installed
| Form Type | Overall Form Depth | Plan Dimension Installed | Concrete Consumption To Top of Domes | Clear Void Equivalent | Dead Load of Concrete Structure to Top of Domes | Data Sheet | CAD Block |
| --- | --- | --- | --- | --- | --- | --- | --- |
| | cm (inch) | cm (inch) | m3/m2 (cy./sq.ft.) | cm (inch) | kPa (psf) | | |
| CUPOLEX WINDIDRAIN 5-56 | 5 (2") | 56x56 (22"x22") | 0.008(0.0010) | 4 (1.57") | 0.19 (3.96) | PDF | DWG |
| CUPOLEX WINDIDRAIN 10-56 | 10 (4) | 56x56 (22"x22") | 0.030(0.0036) | 7 (2.76") | 0.71 (14.82) | PDF | DWG |
To begin using the CUPOLEX® for your project, visit our CUPOLEX SOLUTIONS page for a step-by-step road map on using this product.
Looking for Design Assistance, Product Specifications, Cost Estimates or Complete Design and Supply?