Structural Ribbed Concrete Slabs
The CUPOLEX® floor slab can be fully or partially suspended on piles, stem walls or grade/edge beams. Additional reinforced internal ribs are then used in the slab by introducing PONTEX®, the structural CUPOLEX® accessory to provide a structure capable of spanning between foundations or piles.
The innovation of PONTEX® was introduced to the CUPOLEX® system to advance the aerated floor technology one step further. It has the potential to revolutionize the conventional application of concrete slab construction by reducing the amount of excavation, reducing or eliminating the need for imported materials, aggregates or engineered sub-grade, reducing the amount of concrete consumption and reducing labour costs. The CUPOLEX-PONTEX® technology is at the forefront of conventional concrete slab construction.
PONTEX® is recycled polypropylene element that, combined with CUPOLEX® can be used to create beams so that aerated floors become self-bearing. If the soil is unsuitable to hold the slab load design, PONTEX® is used which in turn will create a one directional or a two directional structural slab.
Quick and simple to install
Minimizes the need for skilled labor
Supplied on short lead times
Tailored to any type of site requirements
Saves aggregate, concrete and steel
Speeds construction
Lowering building costs
 Reducing the cycle time of building
Maximum control of concrete curing
Providing a higher quality floor surface;
Achieving longer spans in pile/beam structural slabs and pile numbers may be optimized to limit additional costs
Monolithic poured concrete foundation slabs
Solution for Structural Weight Limits
Contributing to GREEN or LEED certified building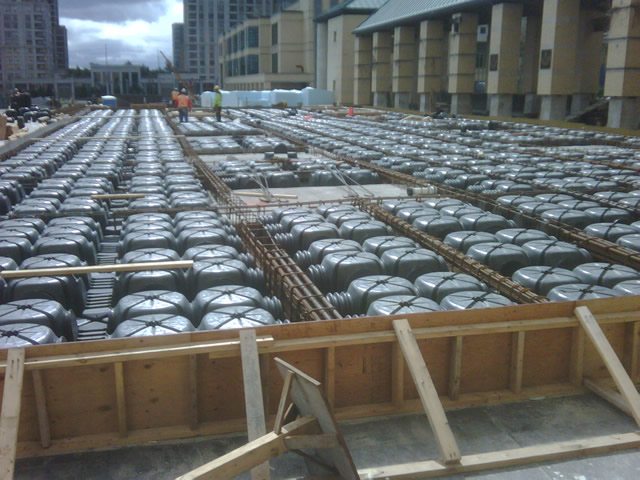 There may be many reasons for suspending a floor slab that may include:
Unsuitable ground conditions such as very low bearing pressures
Expansive/swelling soils
Predicted post construction settlement of the subbase
Bridging over public storm water and sewer lines
Slope stability issues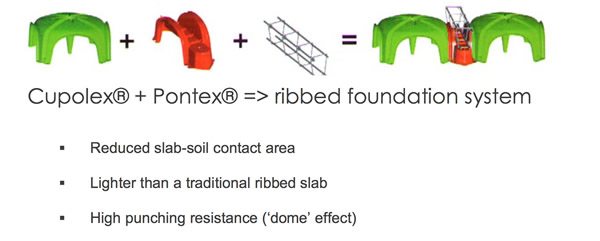 We provide PE stamped shop drawings through our engineering partners globally, construction training, and installation observation and we work closely with the design team, the contractor, and the owner to ensure the success of the project.  Each site is different, and working with project partners to find installation solutions that address specific site needs is a part of the service we provide.
To begin using the CUPOLEX® in your building project, visit our Getting Started page for a step-by-step road map on using this product.
Please refer to the Cupolex and Pontex Technical Data Sheet for details of the physical properties of the product range. The appropriate height of Cupolex should be selected based upon the required equivalent void and the concrete thickness above the domes and the configuration of the Pontex Ribs is based on the maximum load capacity and span that the slab is required to support. This information is provided in the table below:
| Overall Form Depth cm (inch) | Data Sheet | CAD Block |
| --- | --- | --- |
| PONTEX H26 (10") | PDF | DWG |
| PONTEX H45(18") | PDF | DWG |
Looking for Design Assistance, Product Specifications, Cost Estimates or Complete Design and Supply?