Overview
PRATEX is an innovative water permeable pavement solution and are a ground reinforcement paving grid system manufactured from 100% recycled polyethylene HDPE plastic. Pratex units simply inter-connect with each other to provide a very strong stable surface capable of withstanding heavy vehicle loads. Pratex can be filled with gravel, grass or a soil to provide a gravel or a natural grass surface.
PRATEX  are ecologically friendly, easy-to-install, environmentally sound alternative to asphalt, concrete, gravel, cobblestones, tree bark or peat moss, dirt, sod and other common types of groundcover. To comply with land use restrictions or an alternative to concrete or asphalt paving in your residential, institutional, or commercial properties, PRATEX provides the solution.
PRATEX provides pervious surface construction and its use may be exempt from many communities' construction restrictions. Such set-aside programs could make the construction project prohibitively expensive, unless PRATEX is used instead of pavement.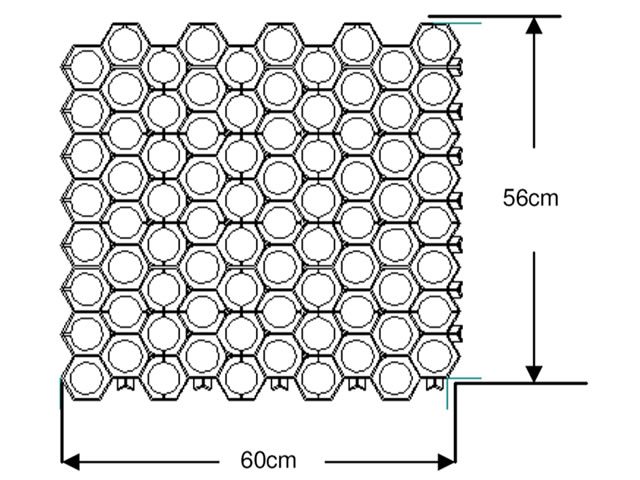 Driveways
Firelanes
Lawn areas next to driveways and roads, for temporary parking
Parking Areas
Patios
Pathways through the lawn
Carport floors
Garden paths
Golf Cart Paths
Utility areas (i.e. under trash containers)
Storage areas (i.e. vehicles, implements and machinery, etc.)
Subsoil stabilization on hills (i.e. under sod, e.g., to prevent walking on saturated lawns, on hills)
Around gates and entrances, where high traffic tears up the grass
Equestrian uses (paddocks and turnouts, dry lots, barn interior flooring, stalls, etc.)
Features
Stormwater filtration and treatment
Very high load bearing capacity
Simplicity and Speed are the main characteristics of PRATEX. On average, 2 laborers can install 150 m2 (1600 sq.ft) per hour.
Available marking caps inserted in PRATEX cells to mark driveway or parking lines.
Very adaptable and may be filled with either soil, sand, crushed stone, stream pebbles, or grass manufactured from UV \ Stabilized 100% recycled HDPE.
Durable, very strong, chemically inert & non-toxic safe and eco-friendly remains strong and flexible, even in extreme climates.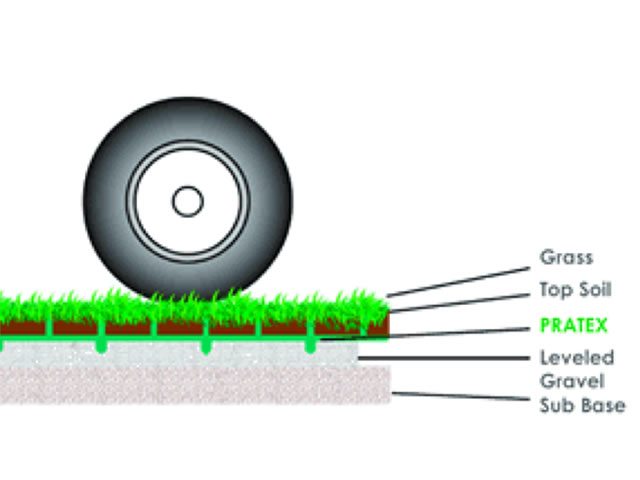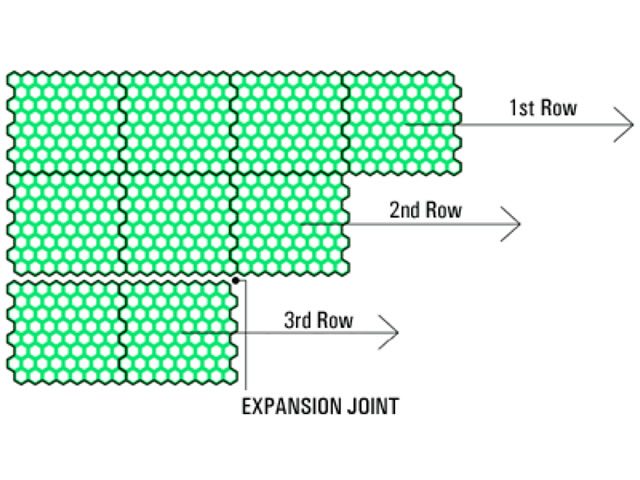 PRATEX Placement & Assembly
Simplicity and Speed are the main characteristics of PRATEX. On average, 2 laborers install 150 m2 (1600 sq.ft) per hour.
Commence installation on first row from left to right. Repeat on all other rows and secure the interlocking clips of each element.
PRATEX Dimensions & Properties
| | |
| --- | --- |
| DIMENSIONS IN CM. | 60 X 56 |
| DIMENSIONS IN INCHES | 24 X 22 |
| HEIGHT | 4.0cm(1.75") |
| WEIGHT | 1.3KG.(2.60 LBS)) |
| LOAD BEARING CAPACITY | 300 t/m2 |
| SOIL CONSUMPTION | 0.038 m3/m2 |
| UNITS PER M2 | 3 |
| SQ.FT. PER UNIT | 3.36 |
| PACKAGING | WOOD PALLET |
| M2 PER PALLET | 76 m2 |
| SQ.FT. PER PALLET | 818SQ.FT |
| UNITS PER PALLET | 228 |
To begin using the CUPOLEX® for your project, visit our CUPOLEX SOLUTIONS page for a step-by-step road map on using this product.
Looking for Design Assistance, Product Specifications, Cost Estimates or Complete Design and Supply?