Overview
Sites with soils with very low bearing capacity, high compressibility, or that are highly expansive typically require remedial treatment.  A Special slab design such as a structural reinforced slab, a slab that includes stiffening beams or a slab not directly supported by the soil such as on a beam/pile or stem wall foundation.
PONTEX is recycled polypropylene element that, combined with CUPOLEX® can be used to create beams so that aerated floors become self-bearing. If the soil is unsuitable to hold the slab load design, Pontex is introduced to the slab design which in turn will create a one directional or a two directional structural slab that can be partially or fully supported by a beam/pile foundation or foundation walls.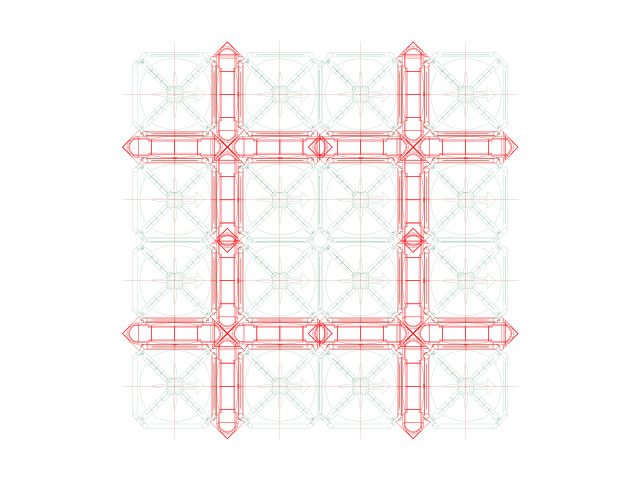 Applications
There may be many reasons for suspending a floor slab that may include:
Unsuitable ground conditions such as very low bearing pressures
Expansive/swelling soils
Predicted post construction settlement of the subbase
Bridging over public storm water and sewer lines
Slope stability issues
Features
Cupolex® + Pontex® => ribbed foundation system
Reduced slab-soil contact area
Lighter than a traditional ribbed slab
High punching resistance ('dome' effect)
The CUPOLEX® floor slab can be fully suspended to be fully structurally supported by a concrete beam/pile foundation or stem walls. Additional reinforced internal ribs are then used in the slab by introducing PONTEX®, the structural CUPOLEX® accessory to provide a structure capable of spanning between stem walls or pile locations.
Very little additional work or material is required to provide a structural floor slab system and in many cases exterior foundations walls or footings and their reinforcement remains unchanged. As with all slabs, each structural CUPOLEX® floor is specifically designed to suit site conditions and pile numbers may be optimized to limit additional costs. With PONTEX and CUPOLEX® it is possible to obtain floors with very high load bearing capacities, which can be calculated with FEA engineering design programs. Contact our technical department for specific design calculations, drawings and details. Design sealed drawings and specifications should be provided for each Structural Cupolex –Pontex slab design by an Approved Registered Professional Engineer certified in your Province or State.
Advantages
Thickening slab areas for Supporting Load Bearing or Non Load Bearing Walls
One or more PONTEX elements added in areas subject to greater loads or exceptional stress.
Structural Self-bearing Concrete Slabs
With PONTEX the floor discharges its loads to the foundations and not to the ground. Poor load-bearing soils need no enhancing (by excavating, using engineered fill or gravel ) which saves considerably on costs and construction schedules.
Tie Beams
By using PONTEX for industrial buildings, connecting concrete structures can be made between the plinths simultaneously with the CUPOLEX®-Pontex casting system, saving time and money.
Poor Load Bearing, Challenging Expansive Soils
The CUPOLEX®-Pontex floor can even be applied directly on a poor-load bearing soil. In fact, if the floor is calculated properly with our software, it will support any differentiated soil yielding. PONTEX will neither interfere with the sub slab venting nor services installed below the concrete floor, due to the continuous hollow space beneath the slab.
Form Dimensions
PONTEX® forms are available for CUPOLEX® H. 260mm (10") and CUPOLEX® H. 450mm (18").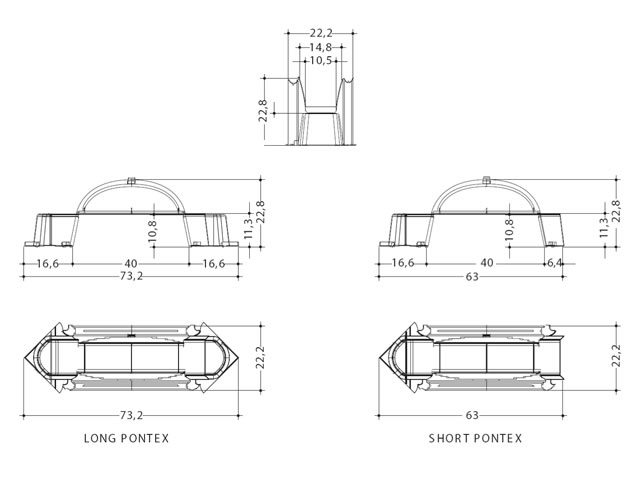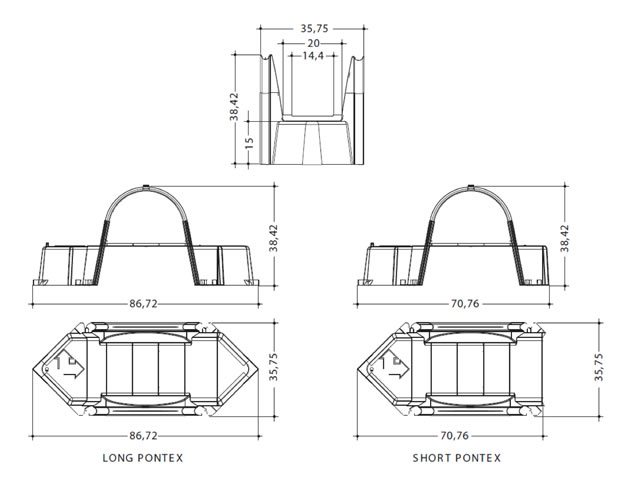 Watch Video to See How Pontex is Installed
| Overall Form Depth cm (inch) | Data Sheet | CAD Block |
| --- | --- | --- |
| PONTEX H26 (10") | PDF | DWG |
| PONTEX H45(18") | PDF | DWG |
To begin using the CUPOLEX® for your project, visit our
CUPOLEX SOLUTIONS
page for a step-by-step road map on using this product.
Looking for Design Assistance, Product Specifications, Cost Estimates or Complete Design and Supply?