Bridged Pavements For Soil Cells & Irrigation Tanks
Introduction
CUPOLEX is a forming system for providing an easy, efficient and fast solution for constructing pavement that require to bridge between planters, provide additional soil volume and as support to planter curbs, landscaping structures or provide water storage tanks adjacent to planters for irrigation systems, CUPOLEX 550mm (22 inches) to 700mm (28 inches) are used for this types of applications.
This cutting edge forming system comprises of CUPOLEX that quickly interlock and connect to each other composing a self-bearing structure ready for the placement of planting soil and furthermore the concrete pavement. The elevated CUPOLEX pavement supported by the matrix of columns formed by the system can support high load-bearing capacities. The elevated CUPOLEX structure and the void created below the slab can be used to contain quality and unlimited soil-volumes, creating structurally beneficent and strong structure systems that are conducive to root growth while supporting any pavement design.
Enables trees to accept, store and transmit water, nutrients and energy
Provides room in which roots can propagate. Rialto creates space below the pavements which is required for good soil life and the necessary biochemical exchanges to promote tree growth
Trees are not planted in cramped planting pits and poor subsoil
Roots do not colonise the area immediately underneath the paved surface, thus preventing structural pavement damage
Solid and compacted ground for pavements is not required
Can be designed to support any vehicular traffic
Trees do not compromise or damage the structural integrity of the paved surfaces
Urban trees can be adequately provided for in their urban setting
Provides savings in time and materials compared to other tree and stormwater management systems. Flexible for any dimension on plan or depth and can be easily installed around new or existing underground utilities and pavement penetrations.
Proven track record
Allows for root breakout from the soil cells into surrounding soils
Provides a complete opened void allowing for easy flow of water into and out of the Soil
Time tested technology with over 500 million sq.ft installed
Manufactured to ISO 9000:2002 high quality standards
Parking Lots
Streetscapes
Roadways
Footpaths
Plazas & Medians
Green Roofs
Break-Out Zones.
Medians
Shopping Centers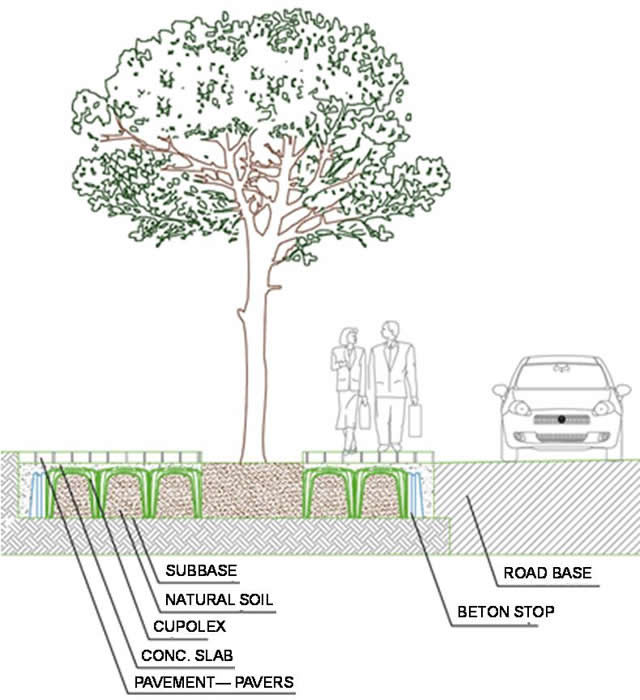 We provide PE stamped shop drawings through our engineering partners globally, construction training, and installation observation and we work closely with the design team, the contractor, and the owner to ensure the success of the project.  Each site is different, and working with project partners to find installation solutions that address specific site needs is a part of the service we provide.
Contact us today to GET STARTED on your CUPOLEX SOIL CELLS bridged pavement design.
Please refer to the Cupolex Soil Cells Technical Data Sheet for details of the physical properties of the product range. The appropriate height of Cupolex should be selected based upon the required equivalent void for the required soil volume and the concrete thickness above the domes is based on the maximum load capacity that the slab is required to support. This information is provided in the table below:
| Cupolex Form Type | Overall Form Depth | Plan Dimension Installed | Concrete Consumption to top of Domes | Clear Void Equivalent | Soil Volume | Datasheet | CAD Block |
| --- | --- | --- | --- | --- | --- | --- | --- |
| | cm (inch) | cm (inch) | m 3 /m 2 (cy./sq.ft.) | cm (inch) | m 3 /m 2 (cy./sq.ft.) | | |
| CUPOLEX 55-71 | 55 (22") | 71x71 (28"x28") | 0.069 (0.0080) | 48 (19.29") | 0.48 (0.060) | PDF | DWG |
| CUPOLEX 60-71 | 60 (24") | 71x71 (28"x28") | 0.070 (0.0085) | 53 (20.87") | 0.53 (0.069) | PDF | DWG |
| CUPOLEX 65-71 | 65 (26") | 71x71 (28"x28") | 0.071 (0.0090) | 58 (22.83") | 0.58 (0.076) | PDF | DWG |
| CUPOLEX 70-71 | 70 (28") | 71x71 (28"x28") | 0.073 (0.0095) | 63 (24.80") | 0.63 (0.083) | PDF | DWG |
Looking for Design Assistance, Product Specifications, Cost Estimates or Complete Design and Supply?