Overview
The patented BETON STOP® by Pontarolo Engineering is an ancillary product used for closing the side openings of CUPOLEX® forms. BETON STOP® compensates the required dimensions different from those obtained by using the CUPOLEX® module, with no need to cut the CUPOLEX® units therefore the CUPOLEX® aerated floor will be suitable for all project dimensions eliminating and eliminate any waste.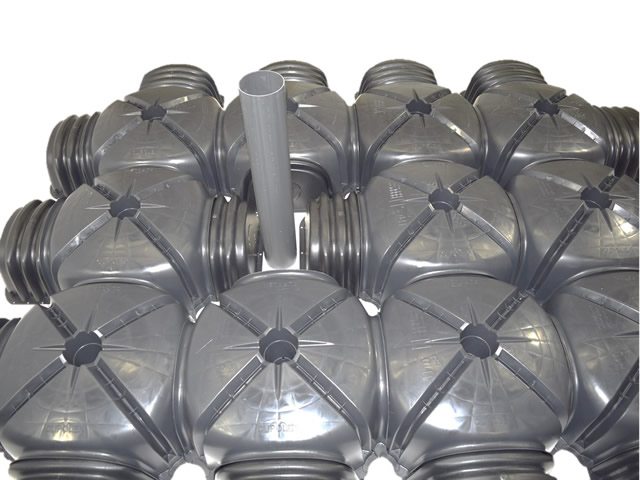 The use of Beton Stop allows you to place monolithic slab foundations and Aerated Floors avoiding formwork or trenching of interior beams and footings
The corrugated shape enables to adapt the slab to any dimension on plan, allowing adjustment with a step of 5.5 cm, and compensate for all the measures of the project areas different from those obtainable with Cupolex module 56cm or 71cm (for heights from 20cm to 70cm)
Eliminating the cutting of Cupolex
Eliminates waste
Allows the passage of vent transfer pipes with the pre-scored hole on sides
Saves money and time
Allows footings, beams and thickened slab areas to be formed within the system
Made from recycled polypropylene
Available Form Heights
BETON STOP forms are available for various CUPOLEX heights to suit any site conditions or design requirements. Made from 100% recycled Polypropylene (PP) plastic. The forms provide the maximum performance and guarantees superior characteristics of stability and resistance in its structure to allow operations that are completed directly above the plastic BETON STOP® elements before and during the placement of the concrete.
Watch Video to See How Betonstop is Installed
| Overall Form Depth | Data Sheet | CAD Block |
| --- | --- | --- |
| cm (inch) | | |
| BETON STOP H20 (8") | PDF | DWG |
| BETON STOP H26 (10") | PDF | DWG |
| BETON STOP H30 (12") | PDF | DWG |
| BETON STOP H35 (14") | PDF | DWG |
| BETON STOP H40 (16") | PDF | DWG |
| BETON STOP H45 (18") | PDF | DWG |
| BETON STOP H50 (20") | PDF | DWG |
| BETON STOP H55 (22") | PDF | DWG |
| BETON STOP H60 (24") | PDF | DWG |
| BETON STOP H65 (26") | PDF | DWG |
| BETON STOP H70 (28") | PDF | DWG |
To begin using the CUPOLEX® for your project, visit our CUPOLEX SOLUTIONS page for a step-by-step road map on using this product.
Looking for Design Assistance, Product Specifications, Cost Estimates or Complete Design and Supply?